Creative Retainer Packages
Social Media Identity Packages
Social Media Identity Packages
creative branding | marketing studio
Van Tassel Law
Alternative Divorce Boutique Law Firm
Free Download:

Glossary of
Branding Terms
This glossary of key branding terms is an easy-to-use reference tool that helps define terminology used in the branding and marketing world.
THAT TURNS YOU INTO THE ONLY ONE.
Like any other pieces of your marketing, your business card should work with your brand strategy, not against it. "consider yourself BRANDED" ensures that the experience people have with your brand – online and off –will permeate all your communications and align consistently with your brand strategy.
consider yourself

BRANDED
Working Together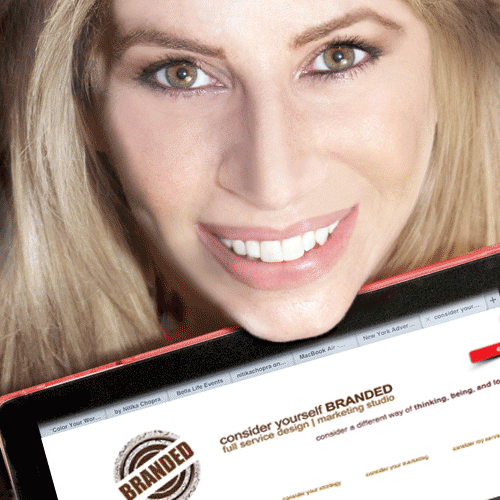 I will work closely with you beyond the branding and beyond the screen, delivering customised visuals across a digital and print platforms. "consider yourself BRANDED" has established alliances with resources that are accessed on an as-needed basis, determined by the clients needs and scope of work. These resources include, but are not limited to: NYC's top writers, illustrators, photographers, songwriters, and musicians.
I am the principal and consistent point of contact throughout the duration of all client assignments and will have dedicated responsibility for all client communication, strategy development, design and overall assignment execution.\
Helene Abrams
Founder | Creative Director
Strategic Designer and Marketer
Cheryl Fleisher
BRANDTALKer
Copywriter and Marketer
BRANDTALK
With the current emphasis on content, Cheryl Fleisher joins me to write and edit websites, blogs, social media profiles and print collateral. An expert at matching verbiage to visuals, she brings 25+ years of copywriting and marketing experience
to my studio. Her writing is audience-centric, brand-enhancing, research-based and, above all, strategic. A graduate of Cornell University, she also holds an MBA in Marketing from New York University's Stern School of Business.
Working from our defined brand strategy, she crafts the words that make you stand out from your competitors and connect emotionally with your target audience to persuade and influence your customers and prospects at every touch-point.
Customer Service
For me, customer service means understanding my clients' needs and collaborating to achieve the best possible solutions. My passion is branding and my commitment is to growing your business, so I will always be there for ongoing management and support of your brand.